Overland Park Lutheran Youth
We believe the Overland Park Lutheran youth are the future of the church. That's why they're at the center of much of what we do today – leading and encouraging them in a life of faith through education, serving in our church and in our community and fellowship with one another. Preschool through high school – you're welcome!
Youth Sunday School
Even our youngest members are encouraged to grow in their faith at Overland Park Lutheran. The youth Sunday School program here at Overland Park Lutheran gives children age 3 through high school an opportunity to come together to learn about God's word and the promises we have through our belief in Christ Jesus. We offer age-level classes that engage our youth with kid-friendly curriculum, activities, crafts, videos and more in a relaxed setting that's educational, fun and designed to inspire our love for Jesus and one another.
Youth Group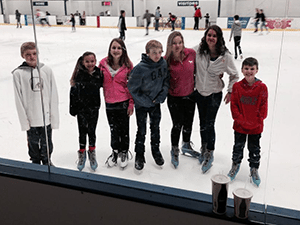 The Overland Park Lutheran Church Youth Group is made up of our Middle School and High School aged students.  In addition to their Sunday School class and confirmation, this group regularly participates in various recreational events as well as service projects around our community.  Recent service projects have included participating in a local stream clean-up project and assisting at the MLM Christmas store.  This group also attended the "Rise Up Together" ELCA Youth Gathering in Detroit in the Summer of 2015, along with 30,000 other ELCA youth throughout the country.
Confirmation
When Confirmation classes are in session, our Confirmation students meet each week with the pastor. They learn more about and discuss their faith, including "Being Lutheran" and the Bible. Parents are occasionally invited to participate in  inter-generational classes which focus on faith, religion, Jesus, salvation, the cross, the Bible, and church.
Students also communicate their understanding of Sunday worship services by writing sermon notes each month. These notes, plus all of their class learnings help them in writing their individual faith statements explaining their beliefs as members of Overland Park Lutheran Church. Their faith statements are shared with the congregation on the students' Confirmation day.
Rally Day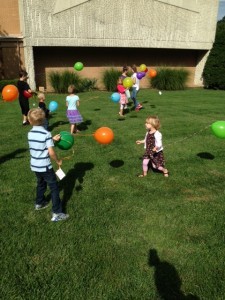 Each September at Overland Park Lutheran Church we kick off a new year of Sunday School with a Rally Day and our annual (and well-loved) balloon launch. The kids enjoy launching their balloons into the air with a note tied to the ribbon inviting whoever may find a balloon to join us for Sunday School. Sunday School classes begin the week following Rally Day for children ages 3 thru high school.
Easter Egg Hunt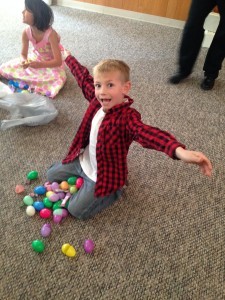 Overland Park Lutheran Church is known for hosting a fun-filled Easter egg hunt for our congregation, neighborhood kids and Easter Sunday guests. Our littlest ones hunt for their eggs on the playground yard while the older kids scavenge the entire church lawn to find their candy-filled eggs. Traditionally, the egg hunt takes place at 10:00 a.m. on Easter Sunday.