You're Welcome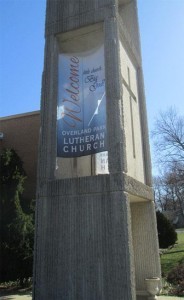 The embodiment of our worship community at Overland Park Lutheran Church, "OP Lutheran," lies within this simple phrase: Curious? You're welcome. Hurting? You're welcome. Seeking, searching? You're welcome. Grateful for God's love and presence. You're welcome.
OP Lutheran's rich, storied history of service to and for the God that has given us rich lives is a form of welcoming. So is the shoulder-to-shoulder worshipping and sharing that we experience each Sunday in our sanctuary. Compared to others, we may seem like a little church. But we know that we love and serve a Big God, who we welcome into our lives in our prayers, our worship and our service to others.
In the pages that follow throughout this website you'll find that we support our prayers with action and sharing. We work to demonstrate to ourselves and others what a life lived in Christ is all about. We know we can't repay what He's done for us, but we try. And we want you to receive what He and we have to give.
Overland Park Lutheran Church Ministries
Latest Posts
Mia Wooldridge
Love as Action, Not a Feeling Jesus tells a crowd: Love your enemies. Do GOOD to those who hate you. Bless those who curse you,
Mia Wooldridge
Belief in the Signs A wedding!  We've all attended weddings, we know what they're all about.  Family and friends gather together to celebrate to people
Mia Wooldridge
Baptized Into Christ for a Purpose Today we move from the story of Jesus birth and take a great leap forward in Jesus life. Past