Ministries at OP Lutheran Church
Ministries at OP Lutheran Church are our lifeblood. They're our time in which we come together to learn and live through the teachings and life of Jesus. Regardless of age or interest, opportunities to serve and grow in a life of faith are happening at OP Lutheran Church. You're welcome!
Vacation Bible School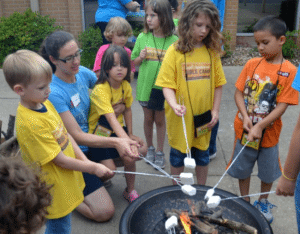 Vacation Bible School – otherwise known as VBS – is a big deal at OP Lutheran! It's our flagship summer event serving our church community and surrounding neighborhood for over 30 years. We use VBS curriculum from some of the top vendors in the country to host a fun-filled, educational and action packed week around a different theme every year. Some of our kid-approved themes have included a paradise island, sailing the high seas, the Louisiana bayou, panda-monium, backyard campout, Mount Everest adventure, crazy animals, maker fun factory, an African Safari and many more. Check out our photo gallery!
Our VBS program brings together kids-at-heart of all ages. Our older generations love to be a part of our week-long adventures helping and guiding kids in understanding just how special each one is in God's eyes and how God's promises are for us all.
Join us this Summer June 12th-June 15th 5:30-8PM More Info to Come!
Mini Food Pantry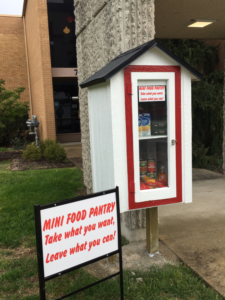 Overland Park Lutheran Church installed a new mini food pantry outside of its main entrance in 2018 to serve anyone in the community.  The food pantry is stocked with canned goods and other basic non-perishable foods and is accessible 24/7 year round.  Take what you want, Leave what you can!
Music at OP Lutheran
Two unique music experiences are offered during OP Lutheran's Worship services.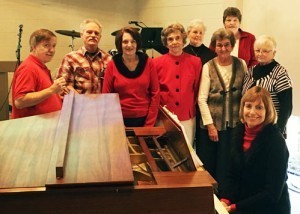 Our Adult Choir is comprised of a dedicated group of individuals from the congregation, and is directed/accompanied by the Director of Music.  The choir meets weekly for practice and provides traditional anthems during our Sunday service as well as some special services.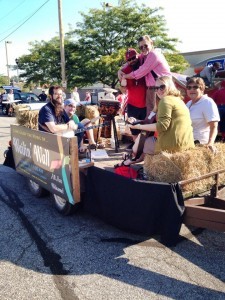 Our talented musicians play a compilation of today's favorite contemporary songs and classic favorites. The band has also been part of Overland Park Fall Festival Parade and numerous other community events.
Altar Guild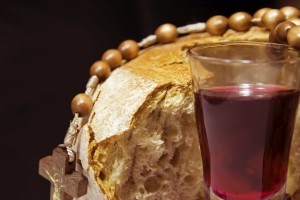 The Altar Guild Ministry Team is composed of volunteer members of the congregation who choose this activity to serve Christ and the congregation. They faithfully and reverently prepare the house of the Lord for scheduled worship services. Altar Guild members serve for regularly scheduled Sunday services and other services such as funerals, weddings, and other special services.
Fellowship Hour After Service - Donuts and Coffee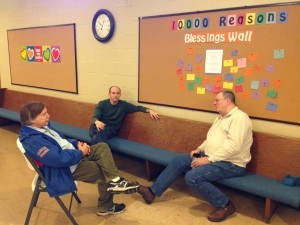 After our Worship services each Sunday you're invited to enjoy self-serve donuts, coffee, juice and fellowship with one another in our Hoeger Parish Hall. This casual come-as-you-are atmosphere is the opportune place for our intergenerational members, guests and friends to connect with one another with enlightening conversations to carry through the week.