Overland Park Lutheran Youth
We believe the Overland Park Lutheran youth are the future of the church. That's why they're at the center of much of what we do today – leading and encouraging them in a life of faith through education, serving in our church and in our community and fellowship with one another. Preschool through high school – you're welcome!
Youth Group
The Overland Park Lutheran Church Youth Group is made up of our Middle School and High School aged students.  This group meets on the 1st and 3rd Sunday evenings at 6:00 p.m. along with the youth from Overland Park Presbyterian Church and also participates in various recreational events and service projects around our community.  Service projects have included assisting at the MLM Food Pantry, MLM Christmas store, and weaving sleeping mats for the homeless.  
Confirmation
When Confirmation classes are in session, our Confirmation students meet with the pastor bi-weekly. They learn more about and discuss their faith, including "Being Lutheran" and the Bible. Classes focus on faith, religion, Jesus, salvation, the cross, the Bible, and church. In preparation for their Confirmation Day, the students prepare their individual faith statements explaining their beliefs as members of Overland Park Lutheran Church.
Easter Egg Hunt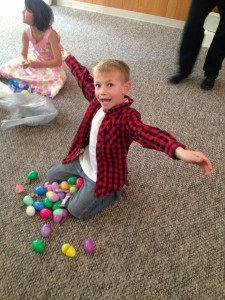 Overland Park Lutheran Church is known for hosting a fun-filled Easter egg hunt for our congregation, neighborhood kids and Easter Sunday guests. Our littlest ones hunt for their eggs on the playground yard while the older kids scavenge the entire church lawn to find their candy-filled eggs. Traditionally, the egg hunt takes place at 10:30 a.m. on Easter Sunday.